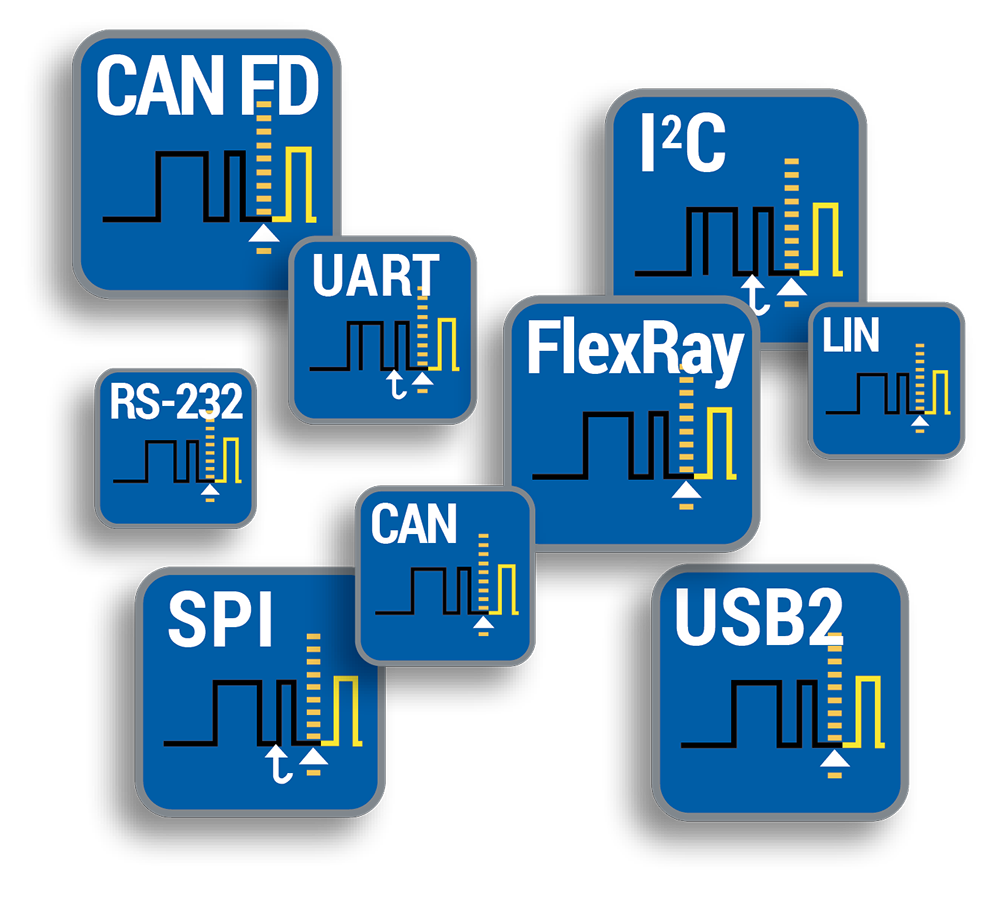 Every serial trigger we design exhibits deep knowledge of the standard. Most serial triggers work with digital (MSO) inputs, or the EXT input for the Clock line so as to conserve analog channels. Each serial trigger has some unique aspect for high performance, such as:
I2C trigger permits triggering on data in a specific location of an up to 2048 byte I2C EEPROM read or write.
UART or SPI bytes can be combined into a single "message frame" - trigger on custom protocols based on UART or SPI byte blocks.
UART supports 9-bit "address" or "wakeup" mode triggering.
CAN, CAN FD, LIN, FlexRay and MIL-STD-1553 permit conditional ID/Address triggering.
CAN and CAN FD permit triggering symbolically using a DBC file.
USB 2.0 and MIL-STD-1553 triggers permits complex transaction definition and triggering.

Every Teledyne LeCroy low-speed serial trigger that incorporates DATA trigger permits a conditional (<. <=, =, >, >=, <>, inside a range, outside a range) setup for the DATA condition. This is especially useful in situations where abnormal events should be monitored, such as when a temperature sensor transmitting via I2C exceeds a maximum temperature, or a CAN node broadcasts a low or high engine RPM or coolant pressure. Furthermore, data for triggering can be specifically isolated in very long byte streams to specific bit locations, even those which span data bytes.
Many proprietary serial protocols make use of the common UART (single Data line) or USART (Clock and Data lines, e.g., SPI) byte structures, with multiple bytes grouped into proprietary protocol definitions. Our highly flexible UART byte and SPI format definitions accommodate nearly any customer need, and the UART or SPI bytes can be defined to be part of a single "message frame" through use of our Interframe Setup. Then, the trigger pattern setup can isolate any byte value, e.g., an ID, or a DATA string value, that is part of your proprietary protocol message definition.